Reasons to Believe


This morning I did what I do after breakfast (hopefully not before). I looked at my Facebook feed, and quickly discovered two stories, both of which I had seen before (one numerous times). The more familiar one was the story of a hole in the ground, and what was found there. The newer one was the story of a hug.
The hole in the ground is in northern Israel, where archeologists found a church dating from the 5th century A.D. that had been burned and later buried over the centuries. As they excavated, they found that the floor of the church was covered with beautiful mosaics, including one of the the feeding of the 5,000 by Jesus. This is yet another evidence from the first centuries of gospel proclamation that the stories of Jesus were well known and understood by his followers. Similar murals and mosaics are found in various places attesting to the use of the New Testament to inform faith. Of course, this is only the latest in a massive number of recent discoveries that offer convincing evidence that David ruled in Jerusalem, that Nebuchadnezzar destroyed the city if 586 B.C., and that Semites (Israelites) lived in Egypt and left suddenly around the time of the Exodus. Archeology gives us much to rejoice in as verification of scriptural records. We don't need "proof" that God's Word is true since we accept it by faith, but outside verification is a wonderful, faith-encouraging way to let others know about our glorious God and his revelation's reliability.
The hug was just two days ago. It took place in a courtroom, as Amber Guyger was sentenced to 10 years in prison for the shooting death of Botham Jean in his apartment. Ms. Guyger, a Dallas police officer at the time, had entered his apartment by mistake--hers was one floor away, thought he was an intruder on her couch, and shot him fatally. The facts were never in doubt, but in the trial certain details of her past were brought out that made her look worse as prosecutors sought to assert more motive to the shooting than just fear. The jury sentenced her to 10 years, although the prosecutor asked for 28 and she could have received life in prison. As Mr. Jean's family were allowed to give victim impact statements, his brother, Brandt, stunned the courtroom (and the nation) by saying that he forgave her, wanted the best for her just as his brother would, and said that she would find it by turning to Christ an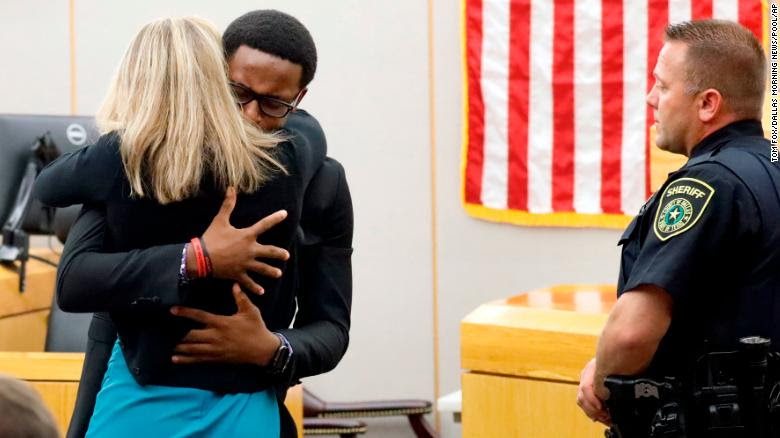 d seeking God's forgiveness. The judge, wiping tears from her eyes, then allowed him his request to give Ms. Guyger a hug. Later, the judge gave Ms. Guyger her personal Bible and urged her to live in light of John 3:16. (Here is a
link to the video
of his remarks and the hug.)
This story has swept throughout news and social media, with many praising Mr. Jean (rightly so) and marveling at the grace and forgiveness he has shown.
What I find amazing is that both of these stories are powerful testimonies to the saving, life changing power of Jesus and his message. But only one grabs the heart--it is the one that doesn't look for factual corroboration of biblical claims. Instead, it clearly reminds us of just what Jesus did for each one of us, and what he calls us to do, as hard as that may be, and however much it may cost. And it reminds us that the mercy and forgiveness of Christ can flow through us to those who don't deserve it, just as it did to us in the first place.
Thank you, Brandt Jean, for not just honoring your brother's memory, but for walking in the footsteps of Jesus.